PROJECTS ---
The Partnership for Educational Progress has helped all of our Community School Districts with various projects. Through community and financial support we look forward to continuing that support for years to come. Listed below are projects past and present.
GLENBARD TOWNSHIP HIGH SCHOOL DISTRICT 87

Glenbard Township High School District 87 is the third largest high school district in Illinois. Dr. David Larson is the superintendent of schools. Glenbard encompasses 45 square miles within DuPage County, a suburban area some 30 miles west of Chicago. The communities of Glen Ellyn, Carol Stream, Glendale Heights and Lombard lie within the district's boundaries, along with portions of Bloomingdale, Hanover Park, Addison, Downers Grove, Wheaton and unincorporated areas.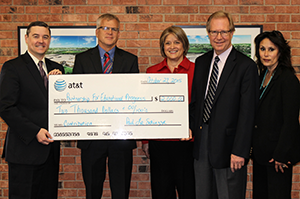 PEP has been honored by AT&T by being chosen to receive its "Investing in Illinois Award." Senator Chris Nybo nominated PEP for this special recognition. PEP received a $2,000 award check which will be used to support Glenbard District 87's "One Book, One Glenbard" program.
Pictured (from left to right) are Senator Chris Nybo, Dr. David Larson, Superintendent of School District 87, Dee Manire, PEP Chairman, and AT&T's, Bob Barry and Sylvia Aldrete.
LOMBARD ELEMENTARY SCHOOL DISTRICT 44

District 44 is located at 150 W. Madison, Lombard, IL. The mission of Lombard Elementary School District 44, working in partnership with students, families, and community members, is to educate the "whole child" in order to achieve personal excellence.
Wm. Hammerschmidt School Spirit Brick Program

Wm. Hammerschmidt is completing its 75th Anniversary Spirit Brick Beautification Program. Through generous contributions made to the Spirit Brick Pep Fund, the final bricks have been laid at Wm Hammerschmidt School. The bricks symbolize a profound gratitude for the 75 years of students, teachers, principal, support staff and a wonderful community, all who have supported education at Wm Hammerschmidt School.

Park View Brick Program

In honor of the school's 50th Anniversary, Park View School, in Lombard Elementary School District 44, recently finished the Park View Legacy Brick Project. The purpose of this Fund is to collect contributions to provide a brick pathway in the outdoor courtyard at Park View school. The courtyard at Park View is used as a classroom for all students, when circumstances and weather permit.
COMMUNITY CONSOLIDATED SCHOOL DISTRICT 93

Community Consolidated School District 93 (CCSD 93) is an elementary, pre-kindergarten through grade 8, education system with approximately 4,500 students. The district serves major portions of Carol Stream, Bloomingdale, and Hanover Park, as well as small sections of Bartlett and Roselle. School District 93 encompasses 11.65 square miles. It has six elementary and two middle schools serving a diverse community.
GLEN ELLYN SCHOOL DISTRICT 41

Glen Ellyn School District 41 is a high-performing K-8 district of five schools serving approximately 3,500 students. There are four K-5 elementary schools: Abraham Lincoln, Benjamin Franklin, Churchill, and Forest Glen. Hadley Junior High serves grades 6-8. Hadley students graduate to Glenbard West High School in Glenbard District 87.
Sue Hodkinson Memorial Fund

In memory of Sue Hodkinson, outstanding educator from Forest Glen Elementary School, a PEP fund has been used towards creating a beautiful memorial garden where students can enjoy reading outdoors.
COMMUNITY CONSOLIDATED SCHOOL DISTRICT 89

Community Consolidated School District 89 is a K-8 district with an enrollment of approximately 2,200 students. The District operates three K-5 elementary schools, one preK-5 elementary school and one 6-8 middle school. Graduates of the district attend Glenbard South High School in Glenbard High School District 87, located within the boundaries of District 89.
Students at Park View Elementary School are looking forward with excitement to the completion of an outdoor classroom area funded through donations to PEP in honor and memory of Karen Olson, former school aid. "Karen would have liked to see the kids enjoy the space," according to Principal Amy Boyer."