In the fall of the 2015-2016 school year, the district began the collaborative process to develop the district's new Long-Range Plan. This plan builds upon the work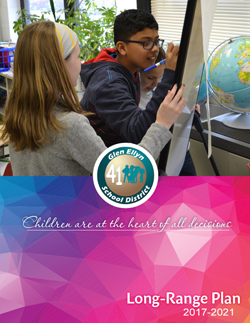 that started in 2008 during the Community Visioning Sessions. It was at this time the Vision statement of "Ignite passion. Inspire excellence. Imagine possibilities" came to life. Our Vision, Mission and Values serve as the foundation of the Long-Range Plan to support the Board's commitment to keep "Children are at the heart of all decisions." This commitment will guide the work of the district through 2021.

The Long-Range Plan guides our work as we align our resources to achieve the Strategic Priorities set by the Board of Education. The plan publicly proclaims our commitment to these priorities and the measures by which we hold ourselves accountable.

The Board of Education has established Strategic Priorities as the most critical objectives in meeting our Mission and achieving our Vision. Strategic Priorities, Indicators of Success, Key Performance Indicators, and the Action Steps will be used to establish our work and budget priorities each year and will serve as the framework to determine the success of the District into the future.

As a part of the Long-Range Plan development process, we collaboratively created a District 41 Student Profile. The Student Profile was created to provide a vision for students. It highlights the key attributes that students attain as they grow from year to year in District 41. Students are why we have a Long-Range Plan. The student profile brings this purpose into focus for the entire district. Click Here to see a video illustration of the Student Profile.






Elements of the Plan
Click Here

for LRP definitions

Strategic Priority 1: Academic Excellence – Student Learning and Academic Achievement
Strategic Priority 2: Facilities that Enhance Student Learning
Strategic Priority 3: Finances that Support Student Learning
Strategic Priority 4: Dedicated and Talented Staff Committed to Student Learning
Strategic Priority 5: School Community Culture and Climate to Further Enhance Student Learning
Strategic Priority 6: Community Engagement and Communication
---